Little Wandle Phonics- Screening Test information
Please click on the video play button to learn more about the test your child will be completing in June - this video will also help to explain what you can do at home to support the learning.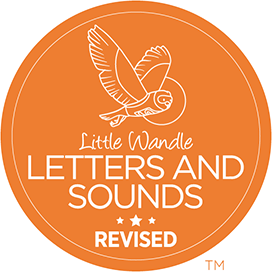 Phonics (reading and spelling)
At St James' CE Primary we believe that all our children can become fluent readers and writers. This is why we teach reading through Little Wandle Letters and Sounds Revised, which is a systematic and synthetic phonics programme. We start teaching phonics in Reception and follow the Little Wandle Letters and Sounds Revised progression, which ensures children build on their growing knowledge of the alphabetic code, mastering phonics to read and spell as they move through school.
As a result, all our children are able to tackle any unfamiliar words as they read. At St James' CE Primary, we also model the application of the alphabetic code through phonics in shared reading and writing, both inside and outside of the phonics lesson and across the curriculum. We have a strong focus on language development for our children because we know that speaking and listening are crucial skills for reading and writing in all subjects.
Comprehension
We value reading as a crucial life skill. By the time children leave us, they read confidently for meaning and regularly enjoy reading for pleasure. Our readers are equipped with the tools to tackle unfamiliar vocabulary. We encourage our children to see themselves as readers for both pleasure and purpose.
To achieve this, we ensure that:
All staff have high aspirations for all our readers and practice high quality teaching
Reading is prioritised to allow pupils to access the full curriculum offer a rigorous, sequential approach to the reading curriculum develops pupils' fluency, confidence
A shared passion for reading is delivered thorough positive reading modelling
Click on the link below, and you will be able to access resources for parents to support phonics learning at home.
https://www.littlewandlelettersandsounds.org.uk/resources/for-parents/
How to Blend: https://www.youtube.com/watch?v=IL5YUCPyC5I
Tricky words: https://www.youtube.com/watch?v=3C1KTDag0ZA
Alien Words: https://www.youtube.com/watch?v=VtoJZMVgy1I