School Meals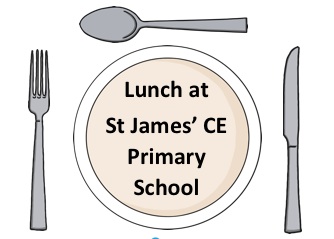 School Lunches at St James'
Enfield Catering Service, who have been awarded the Silver Food for Life Catering Mark, provide delicious meals for our children.
The food will be freshly prepared on site, using seasonal, sustainable and healthy ingredients. Enfield Catering Service are fully committed to animal welfare and only use meat that is classified under a farm-assurance scheme. They have received Compassion in Farming's'Good Egg Award' for their free-range eggs and the 'Good Dairy Commendation' for their organic milk and yoghurt, as well as the Marine Stewardship Council (MSC)accreditation for only serving sustainable fish.
Enfield Catering Services understand that managing allergies and special dietary requirements can be challenging for parents, so for children with medically-confirmed allergies or special dietary requirements their nutritionist can tailor make suitable menus.
It is fantastic that our children will have a variety of choices, including a cold option each day as well as unlimited access to the salad bar! I am sure that you will be as impressed as the children with the wide variety of meals, including some tasty (and healthy) desserts!
As previously you are asked to pay for your child/children's meals in advance of the week. Payments are to be made using our online system. The cost will be £12.50 per week.
If you would like to take a look at Enfield Catering Service website then please do, you will see more information about the service, the address is : https://www2.myschoollunch.co.uk/enfield
In addition to the regular menus Enfield Catering Service will be able to organise theme days and events linked to the National Curriculum or other well-known events taking place. I know that the children will be incredibly excited about these!
All pupils in Reception, Year 1 and Year 2 are able to receive a school meal at no cost as part of the Universal Free School Meal initiative. If your child/children are in Key Stage 2 (Year 3, 4, 5, 6) and your family receives certain benefits or is on a low income your child/children could be eligible for a free school meal. If you feel this might be applicable to you then, visit: www.enfield.gov.uk or call the Pupil Benefit helpline on 020 8379 5367 or email, freeschoolmeals@enfield.gov.uk
Please click here to download our new and exciting menu!
Please click here to get further information from the London Borough of Enfield website on claiming Free School Meals for your child or children.